Asteria Hair offer a wide line of human hair in colors,lengths, and styles. Hair is a beauty investment, is a luxurious accessory, and should be treated as such!
Before You Install
Thank you for purchasing Asteria Hair. We know you're excited to rock your new look, but first: Please inspect your hair, check if the hair quality is up to your standards if the wig cap fits. If both answered yes, you're ready to install it.
Co-Wash
The hair looks great out of the the bag, to see the true texture of the hair (and to further minimize tangling)--co-wash it by using a conditioner to cleanse.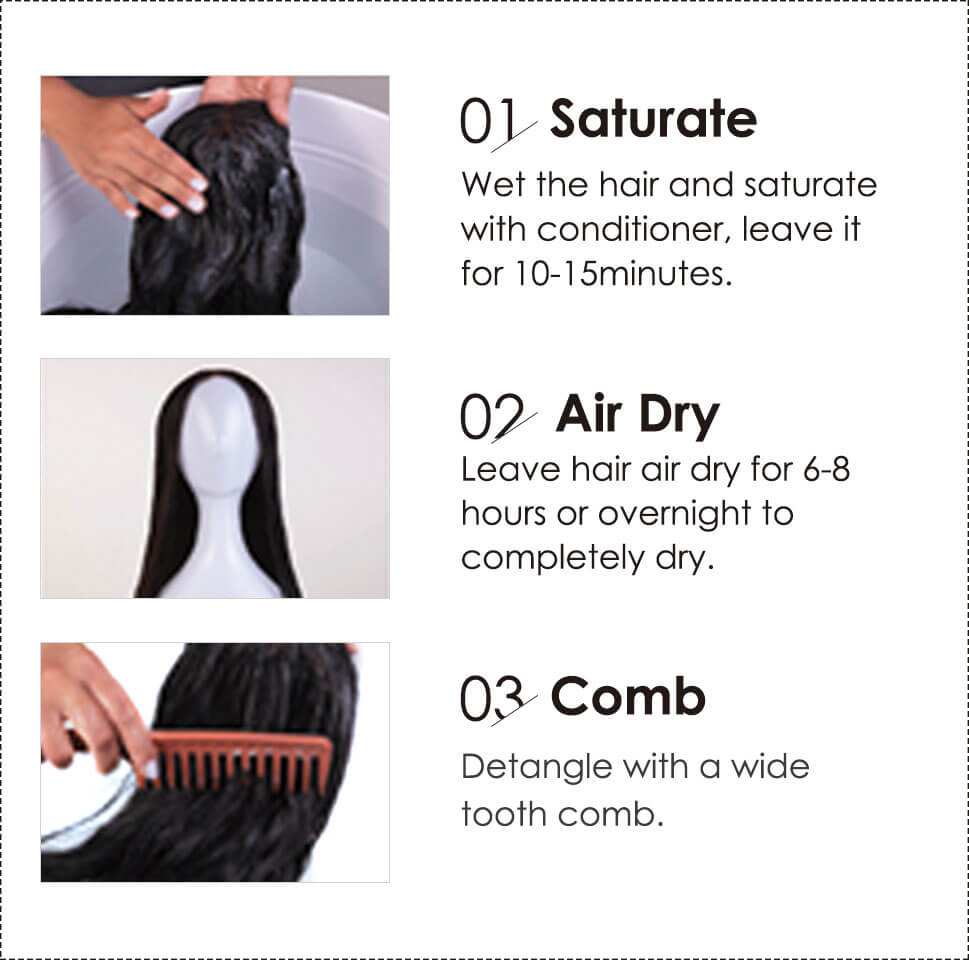 Day Maintenance
1.Always comb or brush through hair using the appropriate tools for textures. See images below. Brush the wig or bundle from the bottom to middle to the top gently with your love~
2.Hair has to be washed and conditioned at least twice a week.
3.If hair has to be put in a ponytail, do not use a rubber band, use a soft fabric or satin hair scrunchie to avoid tangling and dryness.
4.When using hot tools, we suggest temperatures under 350F degrees for colored hair, and under 400F degrees for natural colored hair to avoid dryness. Do not leave any hot tools on the hair for no more than 30 seconds. Once done styling your hair, clean your hot tools.
5.Place your wig on a wig stand or mannequin head when not wearing your wig.

Night Maintenance
1.Always tie hair up with a satin hair scrunchie or into a satin bonnet; alternative satin pillowcase.
2.Use a terry cloth lined shower cap to preserve style of hair and block out any water or moisture trapped in hair.
3.If wearing lace frontal, Use a washcloth to wash face avoiding forehead area to avoid lace lifting.
Wigs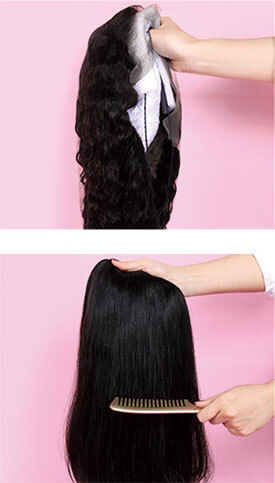 Detangle:
When you first open the wig, please save the net if possible, this will help maintain the hair after use.
After wearing the wig days and before wash, especially for the curly hair, please use a dime conditioner to spread on your hand and gently to lay the conditioner on a small bath tangle hair to detangle the hair with your hand, do not use the comb to comb it hardly; after you detangle it, starting from the bottom of the wig, gently comb through the hair with a wide tooth comb and your love.
Bundles
Detangle:
Remove packaging from bundles. Save the net if possible, this will help maintain the hair after use. Following the direction of the bundle wrap and slowly detangle with your fingers while unraveling.

Apply tap cold water onto the hair. Refrain from using hot/warm water to avoid altering the hair texture. Apply a dime size amount of condition on the hair. Finger comb the conditioner onto the bundle to give it even distribution. Let it sit for 5 minutes. Do not bunch or scrub the bundles.

Hair Care for Textured Hair
Care Tips for #613 Hair
This hair requires more hydration than #1b(natural black) hair due to processing.
To properly dye 613 hair: be sure to apply a purple shampoo to remove any yellow tones. Do not apply purple shampoo for too long to avoid over toning.
To properly apply the purple shampoo, Run tap cold water onto the hair. Do not use any hot/warm water, because all the #613 hair is processed; this might cause dryness or tangling. Take a dime size amount of purple shampoo and Make lather into hands first then apply on hairs. Let it sit for 3 minutes; any longer can turn hair silver or purple. Do not bunch or scrub the bundles.
Be sure to use color treated hair products to make sure hair does not get dry and tangled.
ALWAYS apply a color treated deep condition mask prior to wearing the hair and after applying hair dye or toner.
Frequently Asked Questions
My hair is shedding when I wash it, is that normal?
Yes, that's very common in wigs, especially curly and wavy textures. There may be loose hairs from the tracks and those loose hairs will be removed from the wig during the co-wash. As long as there aren't clumps of hair being released from the wig, your hair is fine.
Can I use hot tools on my hair?
Yes, you can use hot tools for hair. We recommend using high temperatures with caution and highly recommend applying a heat protectant before styling. When using hot tools, we suggest temperatures under 350F degrees for colored hair, and under 400F degrees for natural colored hair to avoid dryness. Do not leave any hot tools on the hair for no more than 30 seconds. Once done styling your hair, clean your hot tools, because on the hot tools might have few loose hair since you pulling down or curl the hair on the tool, so there might few loose hair but it's normal. As well as you clean up the hair on the hot tool, then it's fine~
Why is it important to wash my hair before wearing it?
Wigs are made with human hair and sew them on the weft and lace to become a wig, during these manufacturing process, there are 100% would have few loose hair still left inside the wig, so co-washing removes all the loose hair then could avoid the loose hair tangling in the wig. It also helps to moisturize and hydrate your hair when preparing to style.
How many times should I wash my wig/bundles?
Washing varies by how often you wear your wig. On average we recommend washing your hair twice every week, if used on a daily basis, to maintain it hydrated and remove any bacteria from the lace. For special occasions, like days at the beach or on vacation in humid areas, wash your hair at night and allow it to air dry overnight. Don't forget to condition the wig after wash, and really important that wash it clear after all the steps.
What do I do with my wig when I'm not wearing it?
If you're taking off your unit for a short period of time (to sleep, shower, etc.) you can place it on a mannequin head or a wig standard. If you're looking to store your wig for a longer period of time then place your hair in a satin bag and place it in a cool, dry area.
Can I sleep with my hair?
It's not recommended because it might would cause tangling if not taken care of properly. If your hair is sewn in, wear a satin bonnet. This will help prevent the tangling.
Which volume I can use when coloring the hair?
Our 9A grade hair can be colored with up to 20V. Advise to test a strand hair prior to coloring the full set.
Trouble Shooting
My wig has a crunchy feeling and looks dry and brittle. Why is that?
This usually happens when high heat has been applied to the hair continuously, or hair hasn't been conditioned for a certain period. To avoid this use hot tools only when necessary with proper temperature, please see the above daily maintenance section. Another option is to use a hair masque or deep conditioner to help keep your hair moisturized.
Why is my hair shedding and tangling? How do I detangle it?
Asteria has worked in the human hair industry for over 10 years, researching the best method of giving the best quality hair. Shedding is natural for human hair. Hair on the human head sheds 50-100 hairs daily. Hair sewn on the lace and the wefts have a similar effect. If you see a small amount of hairs loosening from your wigs/wefts do not be alarmed, this is very common in all hair extension products.
Quick tip:
Professional hairstylists place a small amount of clear glue on the tracks of the wefts to keep hairs from loosening and minimize the shedding before use the wig or bundles.
One of the reasons for excess shedding is tangling. Depending on the excess of tangles on the hair, the shedding can be more or less. To avoid these tangles, brush your hair on a daily basis. (See our daily maintenance section on section 1.) Detangle your hair before styling. Not detangling your hair can actually cause the hair to shed more than expected.
Another important step to detangling is using the right detangling method depending on the texture of the hair. Curly textures (deep wave, water wave, deep curly, and kinky curly,etc) require more care than straight or body wave textures. Use your fingers to comb sections of the hair with a light conditioner or Moroccan oil to detangle. Using fine combs aren't recommended for detangling on the curly textures. See our daily maintenance section to see which brush is appropriate for daily hair care depending on your texture.
Lack of hydration can also cause shedding. Shampoo and condition your hair appropriately, as mentioned in the instructions previously, to maintain it moisturized. Don't forget to use deep conditioners and hair masks on a weekly basis, these products can give a little extra moisture to your hair.
I bleached my curly hair and it lost its curl pattern. Why is that?
Bleach has chemicals that can loosen a texture. To keep the original texture as best possible, do a bleach bath. If doing highlights avoid brushing the hair with a lot of pressure and hot or warm water. Pushing down on the hair with bleach can cause the texture to loosen more than needed.
TIP- 1:
layer your wig/bundles on the flat surface to air dry, but remember place it to the another side to make sure both side dry totally.
TIP-2:
Allow curly hair to air dry by hanging the unit by the nape area on a skirt hanger.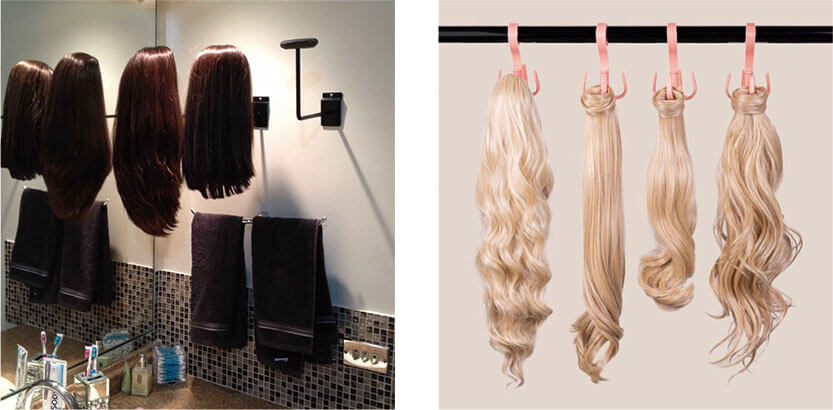 Why are holes appearing on the lace when I pluck it?
This may be caused by forceful plucking or handling. If your lace is HD, which is a thinner lace than regular lace, take your time and slowly and gently in plucking the hair. For regular lace, gentleness is still recommended. This can also happen if you're trying to pluck more than one hair quickly.
For more information please email us at service@asteriahair.com